Well, I got the behemoth duffel bag packed – barely! – and wended my way to Portland.
Driving around, I noted immediately one downside of traveling solo.
Hard to shoot photos and drive at the same time.
Look! There's Powells! Look! Mount Hood! Oh, cool building, I wonder what THAT is?
Didn't capture any of that.
I did try. I have several photos that look like this: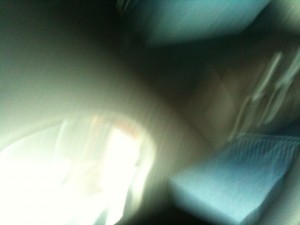 I managed to get at least one photo of Portland finery…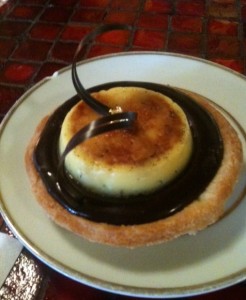 Patisserie treat from someplace on Division, devoured thanks to Almost Birthday Girl.
On the music side I got to kick off the tour at the fabulous Artichoke Music open mic. Met a slew of lovely people, including a musician who happens to be good friends with one of my neighbors in NYC. (What are the odds of that?)  Look! Proof!
Then I ambled south to wine country and played a couple sets at a cool eatery there. (Terrific staff, generous patrons, good food and wine, excellent home-made salt caramels.)
Portland does rock as much as they say it does – it's charming, environmentally conscious, there are good eats everywhere, and it's filled with suspiciously nice people.
I give it a hearty two thumbs up. : )