My family took a trip down memory lane together over Memorial Day weekend this year, and while ostensibly it was about re-connecting with our wonderful friends and family, it was also – of course – about EATING.
As many of you know, I heart food.  Mostly healthy food. Plus dessert of any kind. This food was neither. This was mostly comfort food, overwhelmingly meat-based (apologies, frail vegan friends), and mostly not-so-bueno for you.
But damn it was tasty!
For instance:
Let's focus on the burger itself, shall we?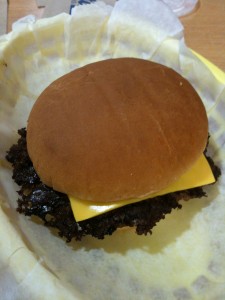 These are from the (not-remotely world-famous) eatery called Vista Burger in Manhattan, KS. Just as delicious now as when I was a child. They say you can't go back again, but it turns out you can. Squint to ignore the renovations, belly up to the counter, and order a burger how you like it.
Ooh! Almost forgot! Get a shake!
More decadent meat meals to come.
Omnivores, stay tuned! Vegetarians, endure.
I promise you a whole gallery of plant-based delicacies. : )