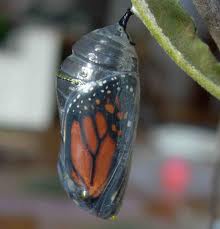 Gestational periods are tough for the impatient among us (say, me). My album is in the chrysalis stage, a real and visible thing, present though not yet fully formed.
Am I content with progress? Not in the least. I want to see the butterfly emerge. It's right there! Almost among us! Come out, come out!
Who has a Costco card? I need to see if they sell patience. I could use several cases.