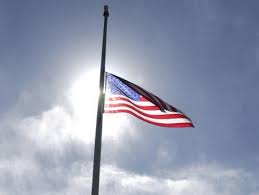 Yesterday, on Memorial Day, I was at a place which lowers and removes the American flag every day at sundown. It was a regular ritual, made more meaningful by the thoughts it evoked on that particular day.
The few of us on premises stood as a cannon was fired, and the flag solemnly lowered and folded. I quietly sang taps to myself. No one took a photo. We just stood, honoring the flag, awash in our separate thoughts.
For me, Memorial Day is complicated. I feel such relief that most of my relatives are honored on Veteran's Day, not Memorial Day. I feel such gratitude toward those who choose to serve.
But I also feel guilt about all the families who are mourning on Memorial Day, especially today, right now. The wars we've been waging for almost 15 years are falling disproportionately on the same shoulders, over and over. Servicemen and women mobilize time and again, while the rest of us spend the holidays meant to honor them barbequing and shopping.
When they come back? As a country, we're not supporting them. Congress has been cruel to vets of late, and we just… let them. We turn away, embarrassed, tired. I turn away.
What can we do? I'm really not sure. I sign petitions, I tell my rep how I feel… nothing changes. I tell you one thing: IMHO, posting 'We support our troops' on Facebook is downright irksome. Do we, really? Do we do anything substantive to support our troops?
Maybe it's time to do more than click 'like' on flag photos. Maybe we can turn to our local communities and try to be involved. There's a program in Charlotte, NC, called Charlotte Bridge Home to help vets transition back into the community, and help the community connect with vets to employ.
Are there more programs like that? Is there a vet in your neighborhood in need of an afternoon of free daycare, or help fixing a car, or some computer training or troubleshooting? What are you good at that maybe you could do for a vet?
I'm a songwriter. I'm decent at singing, writing songs, and driving long distances without getting speeding tickets. What good is that? Perhaps no good at all. Seems totally removed from anything useful to a vet.
Or… who knows. maybe a song I write about it will open a heart, spur someone to action.
Maybe this song. Maybe your heart.